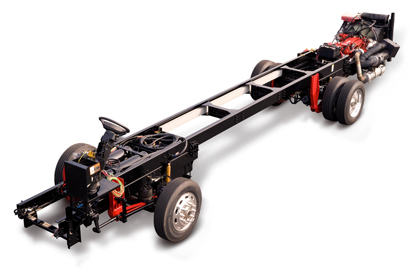 One of the most overlooked aspects of a high-quality motor coach is the chassis. As the foundation of your motorhome, a well-made, expertly-designed chassis plays an important role in how much – or how little – you enjoy traveling from coast-to-coast in your Class A RV.
Given our commitment to industry-leading quality and superior engineering, it should come as no surprise that we at Newmar choose to work with the world's best to equip each of our diesel and luxury coaches with a custom-built chassis. After all, a custom chassis offers several benefits compared to a one-size-fits-all application.
To learn more about these benefits, we spoke with Bryan Henke, Manager of Product Marketing for Freightliner Custom Chassis Corporation. A subsidiary of Daimler Trucks North America, Freightliner Custom Chassis Corporation manufactures premium chassis that are renowned for their exceptional ride and handling characteristics, tight turning radius and extraordinary dependability. The 2015 Ventana LE, Ventana, Dutch Star, Mountain Aire and London Aire come standard with a Freightliner Custom Chassis, while one is an option of the 2015 Essex.
Read More