When you're in the market for a diesel coach, you expect to find a true diesel motorhome experience – more room, enhanced style, bigger power.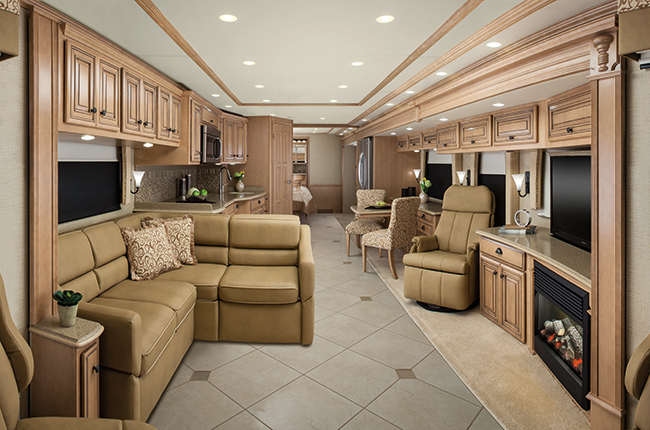 And the truth is, there aren't many RV manufacturers out there who won't meet your expectations. But if you're looking for a diesel offering that goes above and beyond the standard, look to the Newmar Difference. 
The Newmar Difference can be seen in the unmatched quality, attention to detail and innovative features you'll find in every Newmar diesel motor coach.
Standard on every Newmar diesel, Comfort Drive™ is an innovative steering system that represents one of the biggest advances in motorhome drivability in the history of the RV industry. With Comfort Drive, turning your coach's steering wheel is no longer a chore. You won't have to exert nearly as much effort to maneuver your coach through turns because Comfort Drive actively responds to your steering motions.
Comfort Drive eliminates friction, making the operation of your coach much less tiring by allowing you to maintain a lighter grip on the steering wheel. In fact, you'll find that your Newmar motorhome handles much like a car thanks to a self-straightening wheel and lane change sensor adjustments that make staying in your lane easy, even at highway speeds. Comfort Drive even lets you adjust the resistance and responsiveness of your steering wheel using controls located right on your dash.
The Right Floor Plan for Your Lifestyle
Every Newmar diesel, from the Ventana LE to the Dutch Star, features a multitude of floor plan options, so you're sure to find just the right setup for your lifestyle. Each floor plan establishes a welcoming, residential feel, so your coach always feels like home. And most appliances and amenities are of household size and proportions, so you'll never have to worry about not having the size and space you need to live life on the road.
Ventana LE
The Ventana LE offers seven different floor plan options that allow you to opt for a king-size bed, an electronic lift for your flat screen TV – even an extra sofa. Every Ventana LE floor plan features vinyl tile flooring and an L-shaped kitchen with solid surface countertops, textured metal backsplash and an extendable dinette that seats four.
Ventana
The Ventana takes things a step further, giving you ten available floor plans from which to choose. With Ventana, you have the ability to outfit your coach with features like a Maytag® residential refrigerator with icemaker and water dispenser, an expansive wardrobe space and a cozy electronic fireplace. No matter the floor plan, every Ventana comes with wood-glazed cabinet doors, top-shelf appliances and porcelain tile flooring.
Dutch Star
Dutch Star is the best-selling diesel in its class, and for good reason. Dutch Star gives you a choice between ten unique and inviting floor plan offerings. Each floor plan provides you with a range of possibilities, including a mid-ship full bath, an L-shaped sofa living area and an incredibly open and spacious main cabin. Inside every Dutch Star you will find curved, dimensional cabinetry, a pullout kitchen island and a built-in 50" Sony® HDTV with Bose® surround sound.