The Essex matches diesel power with style, class, and beauty in a way you won't find in other modern coaches. If you're looking for a Newmar Essex for sale at a dealer, it's probably because you are well versed in the world of recreational vehicles. You're not just looking for a powerful diesel coach, but you also are looking for sophistication of design and the comfort of a motor coach that feels like a luxury home.
The Essex diesel pusher is outfitted with a Spartan chassis and a 500 horsepower Cummins ISX engine. But what separates the Essex from the other motorhomes in its class are the details. The Essex, like all of Newmar's luxury and diesel coaches, features Comfort Drive Steering, a system that makes the powerful motor coach much more maneuverable.
The Essex motorhome also features a Sony entertainment system and Bose speakers. The bedroom features a Sleep Number bed, standard as a king size. And updated interior styling further improves the luxury motorhome.
What makes the 2014 Essex unique?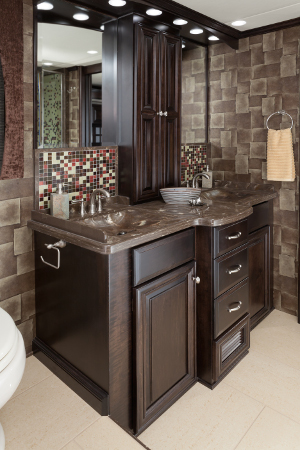 The 2014 Newmar Essex is a great motorcoach for a recreational vehicle veteran looking for a full-time RV. The Essex RV offers luxury from front to rear, and every detail has been meticulously concepted, considered, designed, and crafted. All Newmar models offer handcrafted cabinetry and each are reviewed and improved from year to year. The Essex is no different.
Take the restroom spa area for example. The Essex offers a residential-style shower with floor-to-ceiling tiling. The double vanity offers two full-sized sinks, and the handcrafted cabinetry offers plenty of room for storage.
The Essex is the complete package. Competing coaches are able to offer some of the features and qualities that make the Essex a great luxury motorhome, but none is able to offer all of them.
The Newmar Difference
Recreational vehicle aficionados that have owned motorhomes for years know what features they are looking for, but when you make an investment in a high-end coach like a Newmar Essex RV, you focus on what's not there.
With the Essex, you don't have to worry that the sound system isn't as satisfying as you expected it to be, or that the cabinetry was assembled incorrectly. You don't have to worry that the appliances are low quality, that the seating is uncomfortable, or that it just doesn't feel like home.
A good way to describe the design of the Essex luxury diesel motorhome is "functional beauty." The interior was designed with a focus on aesthetics. Many Essex owners are full-time recreational vehicle residents, so we wanted it to feel like home. But it's not just about how it looks and feels, it's about how it performs. The Essex is built on a custom chassis, uses the best components, and is backed by Newmar's industry-standard service and support.