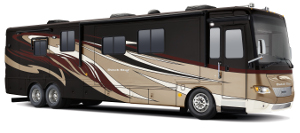 The Dutch Star diesel motor coach is Newmar's most popular motorhome. Many people looking for a Dutch Star motorhome for sale are familiar with the model for its consistently positive motorhome reviews. While it has evolved over the years, adding power, sophistication, and a modern, updated style, it has always been a consistent and treasured contributor to Newmar's reputation as an industry leader.
The Dutch Star is the top of Newmar's diesel motor coach category. Because the Dutch Star is so popular, and because it offers so many features typically associated with luxury coaches, it has a different identity based on who you're talking to. Some people see the Dutch Star as a powerful diesel pusher, others as a luxury motorhome, and others as a bridge between gas, diesel, and luxury motorhomes.
The Dutch Star Diesel Pusher
If you're new to the recreational vehicle community, you may have no idea what the term diesel pusher means. The Dutch Star is a diesel pusher because it has a powerful 450 horsepower Cummins ISB engine that powers the coach from the rear. A diesel pusher is sought after because it offers more power and fuel efficiency than a gasoline engine. If you are driving the coach through terrain, towing another vehicle behind the coach, or just worried about your big, heavy recreational vehicle suffering from a lack of power, you're probably looking for a diesel pusher like the Newmar Dutch Star.
Which Dutch Star RV floorplan will you choose?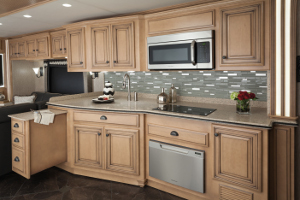 If you're looking for a 2014 Newmar Dutch Star for sale, you have some big decisions to make. That's because the Dutch Star is available in ten different floor plans. The Dutch Star ranges from just under 38 feet in length to a floor plan that is almost 44 feet long. Do you want a full spa at the rear of the coach, or an expansive master bedroom? Do you want a large 92 inch hide-a-bed sofa or an 84 inch Extenda L Flexsteel Ultralux leather sofa?
The following options are offered in all floor plans:
Sony Surround Sound system
Sony LED TV and DVD player
Oasis Hydrozonic Zone Diesel Heating System
Demand Water System with SHURflo Pump
The luxury of the Dutch Star
Another advantage that the Dutch Star offers as a diesel pusher is its standard of luxury. Because of the features it offers, the Dutch Star is often mistaken for a part of Newmar's luxury motor coach line. It's built on a Freightliner Custom Chassis, offers Comfort Drive Steering and the Total Comfort Air system, and is protected by the Full Paint Masterpiece Finish. The interior amazes first-time owners with the comfort it offers, and because the interior cabinetry and structure is hand-crafted, it offers the traditional Newmar perfect fit and finish. The Dutch Star by Newmar is in a class by itself.